Pitchside First Aid
The Prime Practice specialises in providing pitch side first aid cover for sporting events and fixtures.
a: Fromehill Park, Dudbridge Hill, Stroud GL5 3HS
t: 07920755300
e: info@theprimepractice.co.uk
The Prime Practice specialises in providing bespoke pitchside first aid packages to schools, clubs and a wide range of sporting events.
A clinician at your event will be able to offer a range of services such as –
Pre event preparation
Injury management strategies
Emergency first aid
Concussion management
Musculo- skeletal assessments
Post event medical advice
Clinical report
Practitioners Available
Paramedics (HPCP)
Physiotherapists (HPCP)
Sports Therapist (SST/STO)
Our pitch side first aid cover utilises highly skilled, graduate practitioners, all of whom are specialists in their own field. In addition, they also have an extra qualification in sports trauma care and injury management. This gives you the assurance that our therapists are regulated by and conform to guidelines set down by sporting governing bodies such as the RFU and FA.
The Prime Practice believes in using highly qualified practitioners to cover sporting events. This means that not only is there medical support for players but also provides reassurance for coaches and parents alike.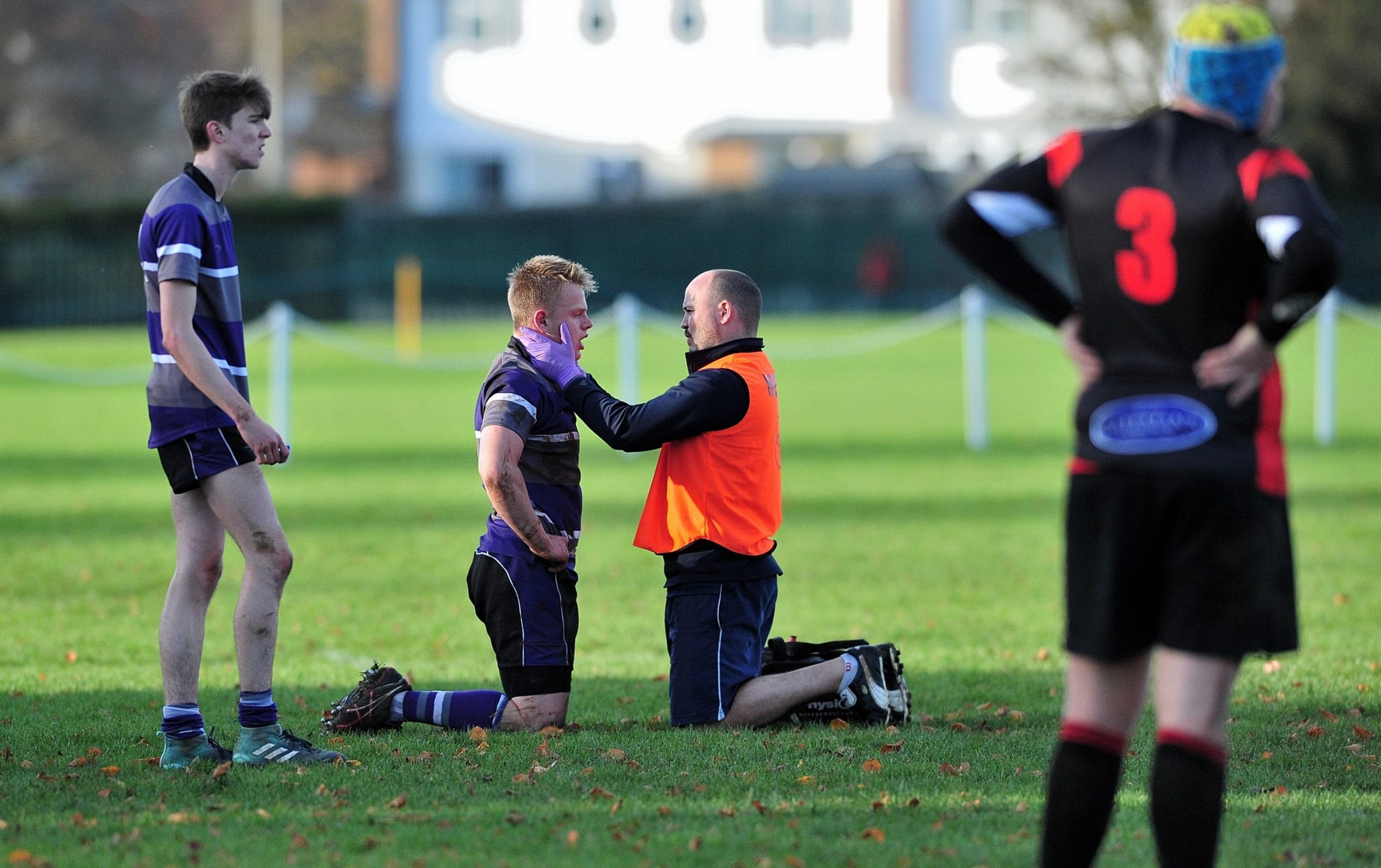 Helping you meet the regulations
We will ensure that the provision we offer meets the requirements of the sporting governing bodies. 
Over the last few years the RFU, FA and many other sporting governing bodies have introduced initiatives that outline to schools and clubs the minimum requirements of medical care for sporting events. 
We guarantee that our practitioners conform to these guidelines and have the recognised qualifications to cover your sporting event. 
Player Welfare Services
We work on a regular basis with directors of sport, teachers, coaching staff and pastoral heads regarding a player's injury status and their ongoing treatment plans.
We also work closely with school medical centres ensuring that transfer of information from playing field to medical centre staff is smooth and comprehensive. If a school does not have this provision a direct hand over to coaching staff and/or parents will be given.
We are also able to offer consultancy services which cover additional medical management opportunities utilising highly qualified staff
Additional services available:
On-site physiotherapy/sport therapy clinics
Concussion management pathways
Strength and Conditioning Services
Dietetics and Nutrition Services.
Our tailored physiotherapy services can be integrated into school timetables to enable students to access sessions during their school day. These sessions can be arranged during lunch times, sports sessions and and thereby minimise disruption to pupils learning.
Concussion Management
Concussion management.
Unfortunately, accidents and injuries can and do happen in sport, although rules and regulations exist to minimise the risk,collisions and head injuries do happen.
The management of concussion is an essential part of player safeguarding.
At The Prime Practice we use experienced and knowledgeable therapists who will support your school or club in developing a programme/protocol for concussion management, following the guidelines as set out by the RFU and the FA. We are able to offer baseline testing for players as part of your organisation's programme for concussion management.
A standard assessment can include
Evaluation of Symptoms
SCAT5
Examination of Balance
Examination of CoOrdination
The Prime Practice can offer a comprehensive pitch side first aid service to schools and clubs.
Pitchside First Aid
The Prime Practice specialises in providing pitch side first aid cover for sporting events and fixtures.
Player Welfare Services
The Prime Practice can provide fully integrated Player Welfare services. We can design a bespoke service to suit any organisation.
Concussion Management
We have the knowledge and experience to help your organisation develop a concussion management pathway.
Contact The Prime Practice
If you would like to book an appointment or make an enquiry about any of our services then please call or email us, we will be delighted to help you.